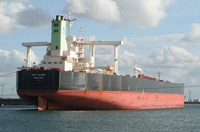 The first shipment of oil from Libya for almost three weeks is due to be exported from the country later.

Libya's opposition groups are said to be making plans to load a tanker due to dock at a terminal near Tobruk.

Lloyd's List, the shipping news and data provider, said that some 1 million barrels of oil are expected to be loaded and sent, possibly, to Qatar.

Libya is Africa's third largest oil producer, but exports have dried up since the anti-Gaddafi uprising.

Lloyd's markets editor, Michelle Wiese Bockmann, said the tanker was due to dock at the Marsa el-Hariga export terminal, in the rebel-held east of the country.

Libya had been exporting 1.6m barrels a day, so one shipment remains a fraction of the country's potential.

But she told the BBC: "The significance is not only that this is the first shipment in 18 days, but it is also a signal that Libya is open to international trade and shipping. It will send a message to other tanker owners."

Ms Bockmann believed that the destination for the high quality crude, worth about $100m at today's prices, was Qatar.

She said oil would then most likely be marketed to countries such as Italy, which has been an important buyer of Libya's output.