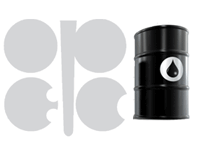 The OPEC Reference Basket extended losses into a second straight month in May, to incur its biggest month-to-month decline since December 2008. It lost a significant 10% of its value during the month, but remained above the key $100/b. A massive speculative sell-off, brief prospects of an easing of geopolitical tensions, record crude stock-builds, weak economic data from the world's major economies and heightened concern over the stability of the Euro-zone weighed heavily on the global petroleum markets, and this was echoed in the Basket price.

Commodity Futures Trading Commission's (CFTC) reports showed that, during the two weeks to 22 May, speculative traders reduced their net long futures and options and the two main crude oil futures by an all-time record of more than 83,000 positions. Moreover, higher oil supply also played a key role in the easing in crude oil prices during the first half of the year. Slowing demand growth expectations in China and India also reduced a key pricing support. In May, the Basket dropped to an average of $108.07/b, decreasing by a hefty $10.11/b or 9.4%, from April. However, year to date, the Basket averaged $115.69/b, $9.49/b above the same period last year.

Without exception, all Basket component values decreased significantly in May, by twice as much as last month's losses and registering the biggest deterioration since December 2008; together they lost a sizeable $11.30/b on average. Brent-related crudes — Saharan Blend, Es Sider, Bonny Light and Girassol — fell by $9.90 to an average of $111.40/b, down 8% for the month. Meanwhile, Middle Eastern crudes Murban and Qatar Marine also dropped, by $9.73, or 8%, to $109.19/b.

Latin American Basket components — Ecuador's Oriente and Venezuelan Merey lost even more to average $101.11/b in May, down by $10.13, or 9%. The remaining Basket components, namely Arab Light, Basrah Light, Kuwait Export and Iran Heavy, also lost 9% of their value in May, to end at $107.16/b, which was $10.50 below the previous month. Besides the direct effect of the drop in the two main futures markets on the overall deterioration in the component values, market sentiment for the regional physical crude oil, that the Basket components are benchmarked against, weakened sharply over the month. In Asia, differentials came under pressure, amid lower official selling price formulae (OSPFs), weaker refinery margins and healthy supply. The poor sentiment weakened the Dubai market structure, with the front month-to-future-month spread narrowing from the previous month's highs, but remaining in backwardation.

Meanwhile, sweet grades were supported by ongoing Japanese demand for utility crude burning. In Europe, the Urals differentials continued to recover from the record lows seen a month earlier, but lost momentum amid ample alternative supplies, sour and sweet, and despite lower imports from Iran. Some pressure, however, may have resulted from European refinery maintenance marking its second-highest monthly figure this year. Meanwhile, regional light grade differentials slipped, due to the ample availability of cargoes, as well as plummeting values for light distillates. On the US Gulf Coast (USGC), the higher inflows from the Middle East seen in recent months served to undermine differentials for Mars crude, while formula-related regional grades, such as Mexican Maya and Venezuelan Mesa-30, also remained very weak, due to the weakness of West Texas Sour (WTS), a key grade in the formula. Moreover, the strong influx of very light-sweet crude into the Gulf Coast dragged down Light Louisiana Sweet (LLS) differentials considerably to a significant discount to Dated Brent. On 11 June, the OPEC Reference Basket stood at $97.34/b, more than $10 below the May average.