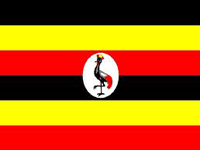 The Ugandan government is aiming to take up a 40 percent stake in its planned oil refinery and offer a private investor the remaining 60 percent according to a tentative shareholding structure, a senior official said. Junior energy minister Peter Lokeris told Reuters several investors had already expressed interest in the planned 120,000-barrel per day plant, but that a process to select a developer had yet to start. "Before any discussions with investors ... we already have our own formulae and we want the government to have 40 percent while a strategic investor takes 60 percent," he said.

Lokeris said the Ugandan government later planned to offer 10 percent of the project to countries in the East African Community and reduce its stake to 30 percent. "Initially we'll take 40 percent but to cement our bond with our partners in the East African Community we plan eventually to give them 10 so we cut our own stake to 30 percent," he said. "If they so wish they can take this up but if they don't we'll retain it."

East Africa's third-largest economy says it intends to build a refinery in Hoima, about 220 kilometres west of its capital Kampala, to process its crude output. Uganda discovered commercial hydrocarbon deposits in its west along the border with the Democratic Republic of Congo in 2006. Energy minister Irene Muloni, told Reuters crude production was slated to start late next year or early 2014.

The government, which estimates Uganda's oil reserves at 2.5 billion barrels, has said the refinery will be developed in phases and would cost an estimated $2 billion. Muloni said the first phase would have a refining capacity of 20,000 bpd and is forecast to be completed by 2015. The Ugandan government and UK oil and gas explorer Tullow Oil, which operates in Uganda, disagree over the size of the refinery's production capacity. Tullow says the refinery's capacity should not exceed 60,000 barrels per day to be attractive to investors but the government insist a facility with a maximum output of 120,000 bpd is viable and can easily get investors.