Source: Reuters 12/29/2011, Location: Middle East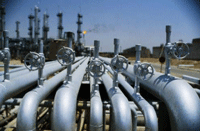 Iraq's crude exports from the Turkish port of Ceyhan stopped due to low production, shipping data showed. The data showed that the Kirkuk pipeline had stopped piping oil at 7 a.m. local time (0500 GMT) due to low production, having resumed in the evening on Wednesday. Traders have said Kirkuk crude exports stopped several times in December.


Oman Crude Oil and Condensates Production

Oman >> 5/9/2013 - The Monthly Report released by the Ministry of Oil and Gas pointed out that the Sultanate"s crude oil and condensates production in April 2013 amounte...




Cumulative Production Exceeds 192 MMBOE

Brazil >> 5/8/2013 - Carlos Tadeu Fraga, Executive Manager for Petrobras' Pre-salt Exploration and Production, announced at the Offshore Technology Conference (OTC 2013) t...




More News
Related Links
Countries Quick Links