Source: www.gulfoilandgas.com 4/17/2012, Location: Africa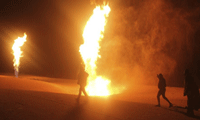 A large explosion rocked El Nasr Petroleum Company located in the middle of Suez city. At least twenty four people had been injured and one killed according to the Suez Governor's office. Injured suffer from fractures of the spine, neck injuries and heart attacks.

The main cause of the fire is the explosion of one of the refinery's storage tanks. The exact cause of the blast is not clear up till now. Huge clouds of smoke can be seen above the plant. The fire continued for three days. One of the company managers, Abu El Wafa, calls for an emergence relief after the explosion of the fifth tank. Firefighting trucks and planes tried to put an end to the fire. Many nearby schools and houses are evacuated for security reason.


| | |
| --- | --- |
| | |
Total Buys Shell's Retail Network in Egypt

Egypt >> 5/15/2013 - French oil company Total SA Wednesday confirmed it acquired Royal Dutch Shell PLC's fuel retail network in Egypt as part of its strategy to strengthen...




More News
Related Links
Countries Quick Links