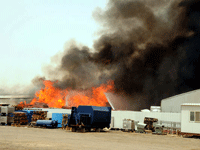 Fire squads from four departments combined and put out a huge fire that erupted in a construction materials and oils storage warehouse at Abdullah Port, south of Kuwait.

The operation led to injuries to the head and hands for fireman, Mohammad Al-Azmi, who is currently receiving treatment, along with huge material losses to the company's belongings, head of Public Affairs at the Kuwait Fire Service Directorate, Khalil Al-Ameer told KUNA.

Four teams from the fire centres of Abdullah Port, Shuaiba, Fahaheel and Mubarak Al-Kabeer took part in the operation. Furthermore, an investigation has been opened into the cause of the incident, he added.