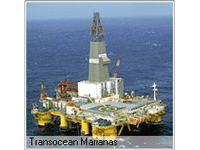 Transocean Ltd., the world's largest offshore driller, said its Marianas semi-submersible rig, which is currently working for Eni SpA (ENI) off the coast of Ghana, has taken on water. "The rig is stable at this time," Guy Cantwell, a spokesman for Transocean, said in a telephone interview. "There are no injuries and all non-essential personnel have been evacuated in accordance with Transocean's policy." Transocean owned the Deepwater Horizon rig, which sank off the Gulf of Mexico while drilling the Macondo well for BP Plc and its partners last year, causing the largest U.S. offshore oil spill. The company, based in Vernier, Switzerland, has started its own investigation and is researching engineering solutions to fix the situation, he said.

Transocean fell $2.04, or 3.2 percent, to $62.23 at 4 p.m. on New York Stock Exchange composite trading. The shares climbed 76 cents to $62.99 at 4:55 p.m. in after-hours trading. "Details remain scarce, but our initial take is that the stock price decline is an overreaction," according to a note to investors co-written by Robert MacKenzie, an analyst at FBR Capital Markets. If the repairs keep the rig out of service for the rest of the third quarter, the lost revenue coupled with operating costs could mean an impact of 9 cents per share to Transocean, according to the FBR note.

The Marianas rig was built in 1998 and is able to work in water as deep as 7,000 feet (2,133 meters). The rig was not drilling at the time and was preparing to move, Cantwell said separately in e-mails. The rig had been disconnected from the well it was working on, and the well was secured, Cantwell said. "There's no oil involved," he said. The drilling contractor said 108 workers were removed from the rig, while 13 remained onboard. Eni is renting the rig through the end of next year at a rate of $450,000 per day, according to an April 14 regulatory filing. Producers will sometimes sublease a rig to another operator. Kosmos Energy Ltd. said yesterday it has secured the Marianas rig to drill the Cedrela-1 well west of the Makore prospect in the West Cape Three Points Block off the coast of Ghana. It expects to start drilling before the end of September, Kosmos said.