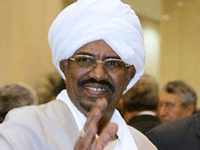 Sudan's President Omar al-Bashir has announced that he will introduce economic austerity measures following South Sudan's secession. Most of Sudan's oil lay in the south and the two countries have not agreed how to divide future oil revenues. The president told MPs that a three-year "emergency programme" would include issuing a new currency. He also promised a more open society where people would be free to express political views without fear of arrest. "Our government is keen not to curb freedom of speech. No-one from today will be arrested for expressing his political views," the president said in his speech to parliament in the capital, Khartoum. Consultations on a new constitution - a key opposition demand - would also begin soon, he said. It would be an inclusive process involving opposition politicians, religious leaders and university professors and the new constitution would be put to a referendum.

Last December, President Bashir said a new constitution would make Islam the only religion in Sudan and Sharia the only law. The BBC's James Copnall in Khartoum says that Mr Bashir's opponents will be sceptical about the promises of greater political freedom. But our correspondent says that perhaps President Bashir has decided that only greater openness and inclusiveness - or at least the impression of it - will keep his country united through what could be a very tough period. According to Reuters news agency, Sudan has been hit by a scarcity of foreign currency and high inflation. "We have placed an emergency programme for the next three years," Mr Bashir said in his nationally televised speech. A new budget with no new taxes is to be put before parliament. "The package of the economic measures includes issuing a new currency in the coming days," he said.

South Sudan announced it was launching its own currency and the South Sudan pound note would be in circulation by next Monday. The new country's Central Bank Governor Elijah Malok told Reuters it would take three months to completely replace the northern currency. The south's independence follows decades of conflict with the north in which some 1.5 million people died. The two countries have still to decide on issues such as drawing up the new border and how to divide Sudan's debts and oil wealth. At present, the revenues are still shared equally. Although most oil lies in the south, most of the oil pipelines flow north to Port Sudan on the Red Sea. Mr Bashir said his government would work with the south "towards resolving all remaining and pending issues despite their sensitivity".

"I reaffirm in front of you what I declared in Juba, that our relations with the newly born state of South Sudan will be based on respect of covenants and serious commitment to consolidate stability and establish a unique and positive neighbourly relationship," he told MPs. On Monday, the president told the BBC the disputed border region of Abyei was a source of potential conflict with South Sudan. Fighting in Abyei and another border region, South Kordofan, forced some 170,000 people to flee their homes in the run-up to southern independence. It has been agreed that 4,200 Ethiopian troops will be deployed to keep the peace in Abyei after a previous deal to make it a demilitarised zone. Abyei is claimed by both sides, while the fighting in South Kordofan pits northern forces against mostly ethnic Nubans who fought for the southern rebels during the civil war but now find themselves in the north. Mr Bashir told parliament that the government intended to restore order in South Kordofan and Blue Nile - northern states where UN peacekeepers have been told to leave, but promised more dialogue. "I hereby assure the sons of Southern Kordofan and Blue Nile regions that we are committed to expand a just political participation for them and enable them to manage their affairs." An African Union-mediated deal signed before the south's secession agreed that the former southern fighters in South Kordofan and Blue Nile would either be integrated into the northern army or disarmed.