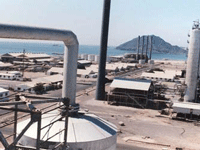 The export pipeline from Marib to the Ras Issa facility on the Red Sea was repaired, the Oil and Minerals Ministry has said, adding that the pumping of crude oil through the country's main export pipeline have been started after a gap of five-months.

The process of pumping crude oil from block 18 of Marib province through the pipeline has began after the ministry fixed it last week. Crude oil is pumped from block 18 in Marib to the export terminal port of Ras Issa in the Red Sea province of Hodeidah.

The key export pipeline in northeast of Marib is been repaired as its damage has resulted in a massive oil supply shortage all over the country since March. The pipeline was attacked in March.

International oil companies active in Marib now are restarting their oilfields gradually, with Austria's OMV telling media in a statement "we are preparing to restart production, this will take some time".

Meanwhile, the United Arab Emirates has donated 3 million barrels of crude to Yemen to alleviate the country's shortages, deputy information minister Abdo al-Janadi has said.

Saudi Arabia in June made a crude donation of the same size, allowing a restart of the crucial Aden refinery by the end of that month.