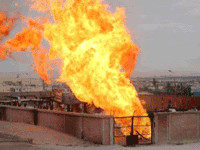 Ampal-American Israel Corporation, a holding company in the business of acquiring and managing interests in various businesses, announced that it has been advised by East Mediterranean Gas Co. ("EMG"), in which Ampal has a 12.5% interest, that in the wake of violent incidents in El-Arish, Egypt on July 29th, in the early morning of July 30th there was an attempt to cause damage to the EMG site near El-Arish.

The security forces on site returned fire, prevented any penetration of the EMG site and repelled the attack. No casualties were reported.

EMG reports that the incident will not affect its operations once EGPC resumes supply after it was interrupted due to an explosion at a GASCO terminal on July 12, 2011.