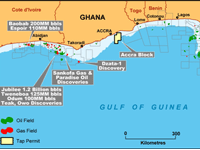 Tap Oil Limited is pleased to announce that it has executed an agreement to purchase an additional 5% participating interest in the Offshore Accra Contract Area, Ghana from Challenger Minerals Inc for USD1.5 million. This transaction, which will increase Tap's participating interest from 40% to 45%, is another example of Tap actively managing its asset portfolio to capitalise on commercial opportunities which arise. This transaction is subject to the prior written approval of the Ghana National Petroleum Corporation and of the Minister for Energy of the Republic of Ghana. Subject to such approvals, the effective date of the transaction will be 1 April 2011.

Tap's Managing Director/CEO Troy Hayden said: "As with our pre-emption of the WA-351-P sale, we see this as a commercially attractive opportunity to increase our holding in a highly prospective asset.

Early results from the 2011 3D seismic survey over the deep water leads are encouraging and this additional 5% enhances our strategic options in the area."

Background

The Offshore Accra Contract Area covers an area of 2,000 km2 and is located offshore to the southeast of Accra, the capital of the Republic of Ghana. Water depths range from less than 50 m to greater than 2,500 m. The Offshore Accra Contract Area is located in an emerging oil province on the West Africa Transform Margin, along the northern Gulf of Guinea. A number of discoveries have been made in a variety of analogous geological settings along this Margin. In 2007, the Jubilee field (one of the largest oil discoveries in the world in 2007) was discovered by Kosmos Energy and Tullow Oil, establishing a new deepwater play offshore Ghana. Jubilee commenced production in 2010 and according to Tullow Oil, recoverable oil reserves for the Jubilee field are estimated to be 1.2 billion barrels. Subsequent discoveries in Ghana (Tweneboa, Odum, Owo, Teak, Dzata, Sankofa and Paradise) and in the Liberian Basin (Venus and Mercury) have further demonstrated the potential that exists along the whole Margin.

Within the Offshore Accra Contract Area, deepwater leads similar to the Jubilee discovery were identified on existing 2D seismic. A new Tap-operated 3D seismic survey was completed in February 2011 in order to confirm and mature these leads into prospects for drilling. This new data is currently being processed and early fast-track results have been received. Interpretation of the fast-track data by Tap's technical team is ongoing and early results are encouraging.

Joint Venture Participants post transaction:

Tap Oil (Ghana) (Operator) 45%; AFEX Oil (Ghana) 35%; Challenger Minerals (Ghana) Limited 20%; Ghana National Petroleum Company 10.0%.

GNPC's interest is carried by the other parties in proportion to their Participating Interest. GNPC has the option of increasing its interest in the event of a commercial discovery.