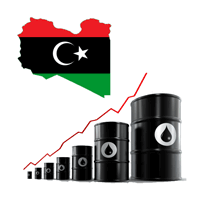 Brent crude fell to near $106 a barrel Monday as Libyan rebels captured most of the country's capital, boosting hopes the OPEC nation's oil exports could resume soon. In London, Brent crude for October delivery was down $2.27 per barrel to $106.35 on the ICE Futures exchange.

Benchmark oil for September delivery was down 21 cents to $82.05 a barrel at midday Singapore time in electronic trading on the New York Mercantile Exchange. Crude fell 12 cents to settle at $82.26 on Friday. Rebels overran most of Tripoli after a quick advance to the capital as defense of Moammar Gadhafi's regime collapsed. Gadhafi's whereabouts were unknown while two of his sons were captured by rebels.

Benchmark crude rose from $84 in February to near $115 in May as the uprising shut down Libya's oil exports of 1.5 million barrels a day. Although Libyan oil amounted to less than 2 percent of world demand, its loss affected prices because of its high quality and suitability for European refineries. Investor fears in recent weeks that slowing economic growth in the U.S. and Europe will undermine demand for crude pushed prices back down.

Libyan oil mostly supplied Europe, and analysts expect the return of Libya crude output would impact Brent prices more than the U.S. benchmark West Texas Intermediate, or WTI. "If the Ghadafi regime falls, Libyan oil production should gradually resume and European markets would directly benefit from that," said Victor Shum, an analyst with energy consultant Purvin & Gertz in Singapore. "Having more supply while the global economy is under threat should put downward pressure on oil prices."

Investors will be closely watching how smooth the transition to the new government will be and how fast oil production can come back on line, Shum said. Some of Libya's oil infrastructure was reported damaged during the months of fighting. In other Nymex trading for October contracts, heating oil fell 3.8 cents at $2.88 per gallon and gasoline futures dropped 5.1 cents to $2.66 per gallon. Natural gas for September delivery sank 5.6 cent to $3.88 per 1,000 cubic feet.