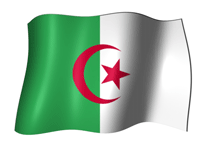 Algeria's energy ministry has recommended to the president that energy laws be changed to make it more attractive for foreign firms to invest in oil and gas projects, an energy official said. Algeria's last three bid rounds for oil and gas permits have attracted lacklustre interest from foreign firms, raising questions about whether it has enough new projects coming on stream to maintain output levels.

Foreign energy executives have said the tax terms, stipulated by the hyrocarbons law, are not attractive enough for them to buy into Algerian acreage. "It's possible there will be some changes in the hydrocarbons law," said the official, who spoke on condition of anonymity. "We need to allow giving a reasonable level of profits to foreign companies."

An energy ministry spokeswoman could not confirm or deny the report. "I have no information about that," she said. The official said the report sent to President Abdelaziz Bouteflika and other policy-makers argues the need for changes to legislation to make Algerian bid rounds more competitive, the official said.

OPEC member Algeria is the world's fourth biggest exporter of natural gas most of it going to Spain and Italy -- and it is also a major exporter of crude and liquiefied natural gas. Its biggest gas fields are mature and production there is expected to start falling off in the next few years. The new projects coming on stream are not big enough to replace the output from the mature fields.