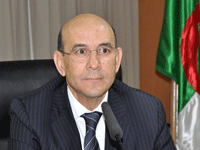 Algeria's state energy firm Sonatrach named its fourth chief executive in two years, bringing new disruption to a company that supplies a large share of Europe's gas but is struggling to get new exploration projects off the ground.

Nourredine Cherouati, appointed chief executive just 18 months ago in the wake of a corruption scandal, was replaced by Abdelhamid Zerguine, a one-time vice-president in the firm who until now ran a Sonatrach affiliate in Switzerland. Officials offered no explanation for the change at the top of Sonatrach, a company with opaque internal workings which takes its orders from the Algerian government.

"The change could be necessary, but it also could destabilize a big company like Sonatrach," said Salah Mouhoubi, an Algerian academic and specialist on the economy. "I think Sonatrach needs stability, and changing CEOs once every year is not good. I am also wondering about how international companies will read the change ... I am afraid that it could isolate Sonatrach and Algeria's oil sector."

Sonatrach issued a statement saying that Energy and Mines Minister Youcef Yousfi had installed the new chief executive at a ceremony on Thursday attended by ministry officials and Sonatrach executives. The announcement confirmed information from three government sources who had earlier told Reuters that Cherouati was to be replaced by the 61-year-old Zerguine. The new head of the company is an engineer by training who joined Sonatrach in 1976. The subsidiary he ran in Switzerland in his last job is part-owned by Italian major ENI, the Sonatrach statement said.

EXPLORATION FLAGGING

The new chief executive's challenge will be to try to speed up exploration as Algeria, an OPEC member, seeks replacements for the mature fields which account for most of its oil and gas production. Attempts to attract foreign energy companies to invest in exploration projects have foundered over the past three years. Potential investors say they are put off by unattractive financial terms. Industry sources in Algeria say there is a growing recognition that hydrocarbons legislation has to change to make the terms more attractive, or the country could face a drop-off in output in a few years time. "There are ideas taking shape (on reform of the hydrocarbons law) because the evolution taking place in the world does not allow us to be rigid," Energy Minister Yousfi was quoted in a state-run newspaper this week as saying.

However, there is resistance to any relaxation of the rules from powerful figures in the government who have led a push towards resource nationalism. Sonatrach is still suffering from the effects of a corruption investigation which led, in January last year, to the departure of then chief executive Mohamed Meziane and most of the company's top executives. Meziane was briefly replaced by caretaker CEO Abdelhafid Feghouli. He was moved aside to make way for Cherouati, until then head of an energy sector regulator. Cherouati gave a briefing to local media on Wednesday in which he denied rumours he was about to be fired. He said though there was a orchestrated campaign against him because the changes he was pushing through had "annoyed some people and interests."