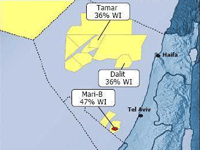 Israeli conglomerate Delek Group said on Sunday that the collateral to back an HSBC loan for its gas exploration units had been rejected by Israel's Petroleum Commissioner.

Last month, Delek Drilling and Avner Oil Exploration received a $250 million non-recourse loan from HSBC for the development of the Tamar and Leviathan natural gas sites off Israel's Mediterranean Coast and other expenses. The companies sought to use the partnership rights in the Leviathan project as collateral but the regulator rejected the plan, Delek said in a statement to the Tel Aviv Stock Exchange.

"The commissioner noted ... that if the partnerships decide to submit a new application, they would have to include clarifications with regard to the Tamar lease work and development financing plan and provide supporting documents," Delek said.

"The partnerships are considering additional steps, which include resubmission of an application with the new requirements."

The Tamar prospect, which contains an estimated 9.1 trillion cubic feet of gas, is due online in 2013, with Tamar expected to supply Israel's gas needs for more than 15 years. A nearby site, Leviathan, is nearly twice as large and due to be online around 2017.

Delek and Avner are part of a group led by U.S.-based Noble Energy developing natural gas wells off Israel's Mediterranean coast.

Noble holds 36 percent of Tamar, while Delek and Avner own 15.625 percent each and Isramco Negev holds 28.75 percent.

The reliance on Israeli gas has intensified since supplies from Egypt have been erratic, as militants have attacked the pipeline between Egypt and Israel 10 times in the past year.