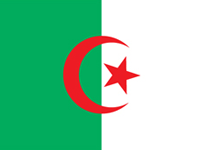 Mr. Anon Sirisaengtaksin, President and CEO of PTT Exploration and Production Public Company Limited or PTTEP in association with its partners, SONATRACH, the Algerian National Oil and Gas Company and CNOOC (the group of China's petroleum producer) is pleased to announce positive results of the 1st exploration well drilled in Hassi Bir Rekaiz perimeter, Algeria.

The well RTF-1 was drilled to a total depth of 4,129 meters on December 20, 2011 and encountered petroleum bearing formation in Triassic Argilo-Gréseux Inférieur (TAGI) reservoir. The flow test (Drill Stem Test - DST) was conducted and found the crude oil flow at approximately 1,000 barrels per day (BOPD) and natural gas at 0.3 million standard cubic feet per day (MMSCFD). PTTEP and its partners planned to drill more exploration and appraisal wells to confirm the extent of the petroleum reserves in the area.

Hassi Bir Rekaiz block is located onshore in the Eastern part of Algeria. It covers an area of 5,377.97 square kilometers. PTTEP's joint venture partners for this block are SONATRACH with 51% interest and CNOOC Limited with 24.5% interest. PTTEP as an operator holds the rest of 24.5% interest.

Apart from Hassi Bir Rekaiz, PTTEP also joint operates Bir Seba Blocks, in Algeria 433a & 416b project in the nearby area, which is currently under the development phase.