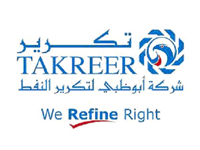 In line with their commitment to sustainability and social responsibility, Borouge and Takreer, two of ADNOC and its Group of Companies, organize a four-day joint campaign on health, safety and environment (HSE) from April 9-12, 2012, at the Shaikh Khalifa Energy Complex in Abu Dhabi, UAE. With participation from local and government establishments, the campaign aims to enhance public awareness about environmental issues and to support the global celebration of the World Health Day under the theme "Good health adds life to years".

The Borouge and Takreer HSE joint campaign will feature the participation of the UAE Ministry of Interior, Abu Dhabi Education Council, Environment Friends Society, Shaikh Khalifa Medical City, Al Mafraq Hospital, Abu Dhabi Blood Bank, Traffic Police Department, Environment Research Department at the Emirates Heritage Club, Petroleum Institute in Abu Dhabi, Armed Forces Officers Club and a number of government and private schools in the Emirate.

"The campaign focuses on spreading awareness about the importance of preserving environment and committing to health and safety conditions," says Alan Izzard Vice President Corporate HSE. "In addition to introducing the public to the aspects of social responsibility that both companies are committed to in line with their corporate sustainability and values which focus on respecting the communities and the environment in which they live and work."

The campaign highlights the roles played by the oil, gas and petrochemicals companies in enhancing the concepts of health, safety and environment in the industry. It reflects the value of cooperation and the significance of sustainability policy adopted by ADNOC and its Group of Companies in implementing an organized policy in managing health, safety and environment and strengthening the companies' contribution in sustaining their responsibilities towards society.

Various cultural and environmental activities will mark the celebrative programme of the HSE campaign. An "environmental exhibition" will be opened on the first day in addition to conducting lectures and discussions related to certain environmental issues and challenges facing the global community. A blood donation campaign will be also arranged during the event, in addition to a marathon race for men, women and children. Another entertaining activity will be held for the children, besides a fire fighting training session for women and a contest on the principles of preserving health, safety and environment. The HSE campaign will conclude on Friday with a 'family day' to be organized at the Armed Forces Officers Club.

Borouge's innovative plastics solutions contribute towards addressing major global challenges such as climate change, food protection, water, energy, communication and healthcare. Borouge also enhances and cooperates with the communities in which it operates by supporting health, safety, environment and education related activities.

"Our Sustainability Policy is based on implementing a systematic approach to the management of health, safety and environment (HSE), asset integrity and social responsibility, in accordance with applicable country laws and regulations, adopted local and international standards and best practices," adds Izzard.

"We demonstrate our commitment to this policy by promoting visible leadership and proactive HSE culture among our employees and contractors, and we also ensure the HSE competency of our people and that they have defined roles with clear responsibilities and accountabilities."

One of Borouge's major contributions to social responsibility principles is the "Water for the World™" global programme that the company initiated in 2007 with Borealis whereby two research projects into the groundwater in the UAE were supported. These researches play a vital role within the UAE where the sustainable availability of safe and clean drinking water is a major challenge for the future.