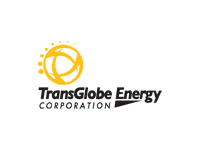 TransGlobe Energy Corporation is pleased to announce its financial and operating results for the three months ended March 31, 2012. All dollar values are expressed in United States dollars unless otherwise stated.

Yemen East- Masila Basin
Block 32, Republic of Yemen (13.81% working interest)
Production
Production sales from Block 32 averaged 2,151 Bopd (297 Bopd to TransGlobe) during the quarter. Actual field production averaged 2,695 Bopd (372 Bopd to TransGlobe) which is approximately 18% lower than the previous quarter due to natural declines and shut-in production during February. Production was shut-in from February 14th to the 17th due to a labour strike at the Petro Masila operated export pipeline system. Production averaged approximately 2,773 Bopd (383 Bopd to TransGlobe) during April.

Effective January 1, 2012 the Block 32 joint venture partnership terminated the crude oil marketing agreement with Nexen and entered into a marketing agreement with Arcadia Marketing Pte of Singapore ("Arcadia"). The first quarter production is the average of the crude oil which was sold during the quarter. The balance of the production will be sold in the subsequent quarter. It is expected that sales and production will vary quarter to quarter due to the reduced frequency of tanker lifting's associated with the volumes marketed by Arcadia.

Block 72, Republic of Yemen (20% working interest)
Operations and Exploration
The Operator received a nine-month extension to September 11, 2012 for the second exploration period. The joint venture partners approved one contingent exploration/appraisal well for 2012. The well is subject to further technical evaluation of the original discovery well at Gabdain #1 and logistic/security issues in Yemen.

YEMEN WEST- Marib Basin
Block S-1, Republic of Yemen (25% working interest)
Production
Production from TransGlobe's An Nagyah field on Block S-1 has remained shut-in since the export pipeline from Marib to the Ras Eisa port on the Red Sea was damaged October 8, 2011.

The pipeline has not been repaired due to local tribal groups preventing access to the pipeline. Typically the pipeline can be repaired within 24 to 48 hours once access to the pipeline has been obtained. TransGlobe's working interest share of production was approximately 2,250 Bopd prior to being shut-in on October 8, 2011.

Block 75, Republic of Yemen (25% working interest)
Operations and Exploration
The PSA for Block 75 was ratified and signed into law effective March 8, 2008. The first, three-year exploration phase has a work commitment of 3-D seismic and one exploration well. The 3-D seismic was acquired in 2009. One exploration well was planned as part of the 2011 Block S-1/75 drilling program however the drilling program was cancelled in the first quarter of 2011 due to logistics and security concerns. The first exploration phase has been extended to March 9, 2013.