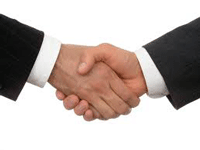 Qatar Petroleum (QP), representing the Government of the State of Qatar, signed an agreement authorizing PetroChina Investment to acquire from GDF SUEZ Exploration Qatar B.V. 40% of the exploration and production rights under its Qatar's Block 4 Exploration and Production Sharing Agreement (EPSA). GDF SUEZ, with 60% stake, will remain as the operator of the block.

The agreement was signed by His Excellency Dr. Mohammed bin Saleh Al-Sada, Minister of Energy and Industry and Chairman & Managing Director of Qatar Petroleum; Mr. Jean-Marie Dauger, Executive Vice President of GDF SUEZ; and Mr. Xiangdong Zhu, Director of PetroChina Investment Qatar Block 4 Limited.

"I am confident that with GDF SUEZ and PetroChina working together, they would be able to effectively accomplish the exploration program that is set to be implemented in Block 4. Qatar Petroleum is glad to support PetroChina participation in another exploration activity in Qatar in addition to PetroChina's interest in the Block-D exploration.

Qatar is keen to have a broader bilateral cooperation with China and we see this as another step to further strengthen the friendly relationship between the two countries," said H.E. Dr. Al-Sada in his comments on the occasion.

Block 4 is an offshore block located in the northern sector of Qatar, close to the North Field. It extends for over 2,500 square kilometers in area at water depths up to 75 meters.

With the formal signing of the agreement today, the two partners—GDF SUEZ and PetroChina—will begin drilling in Block 4 by the next few months.

"GDF SUEZ is delighted to partner with PetroChina in the exploration of Block 4, and our excellent working relationship and close cooperation with QP would undoubtedly serve us well as we continue to study the area's upstream potential," said Mr. Dauger, Executive Vice President of GDF SUEZ.

Mr. Zhu, Director of PetroChina Investment Qatar Block 4 Limited, added: "PetroChina looks forward to working in partnership with GDF SUEZ in Block 4, and we are privileged to further extend our involvement in Qatar's oil and gas industry, thus allowing us to contribute our knowledge and expertise in oil exploration and production."

-- PetroChina is one of the largest companies in the world and the largest oil and gas producer and distributor in China. Its business encompasses oil and gas exploration and production, oil refining, chemical, oil and gas transportation, petrochemical product distribution and crude oil and petrochemical products trading. PetroChina has cooperated with Shell on the Qatar Block D exploration project in which PetroChina holds a 25% equity interest and Shell holds the remaining 75%, and with Shell acting as the operator.

-- GDF SUEZ develops its businesses around a model based on responsible growth to take up today's major challenges: meeting energy needs, ensuring the security of supply, combating climate change and optimizing the use of resources. The Group provides highly efficient and innovative solutions to individuals, cities and businesses by relying on diversified gas-supply sources, flexible and low-emission power generation as well as unique expertise in four key sectors: liquefied natural gas, energy efficiency services, independent power production and environmental services.

GDF SUEZ is one of the leading LNG players in the world and the main LNG importer in Europe. Its LNG portfolio of 16.5 MTPA, sourced from 6 countries, is the third largest in the world. GDF SUEZ employs 218,900 people worldwide and achieved revenues of €90.7 billion in 2011. The Group is listed on the Brussels, Luxembourg and Paris stock exchanges and is represented in the main international indices: CAC 40, BEL 20, DJ Stoxx 50, DJ Euro Stoxx 50, Euronext 100, FTSE Eurotop 100, MSCI Europe, ASPI Eurozone and ECPI Ethical Index EMU. -- Qatar Petroleum (QP), formerly Qatar General Petroleum Corporation, is a state-owned public corporation established by Emiri Decree No 10 in 1974. It is responsible for all phases of the oil and gas industry in Qatar.

The principal activities of QP, its subsidiaries and joint ventures are the exploration, production and sale of crude oil, natural gas and gas liquids and refined products, production and sale of petrochemicals, fuel additives, fertilizers, liquefied natural gas (LNG), steel, aluminium, chartering of helicopters, underwriting insurance and other services.

QP's strategy of conducting hydrocarbon exploration and development are through Exploration and Production Sharing Agreements (EPSA) and Development and Production Sharing Agreements (DPSA) concluded with major international oil and gas companies.

The operations and activities of Qatar Petroleum are conducted at various onshore locations, including Doha, Dukhan and the Mesaieed and Ras Laffan Industrial Cities, as well as offshore areas, including Halul Island, offshore production stations, drilling platforms and the North Field.