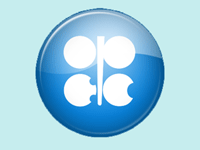 Canada oil supply is forecast to average 3.78 mb/d in 2012, representing growth of 0.22 mb/d over 2011 and a minor downward revision of less than 10 tb/d from the previous MOMR. The revision was mainly related to the second quarter to adjust for updated production data. The anticipated growth in Canadian oil supply in 2012 is the highest annual supply growth since 1979.

Preliminary production data for the first half of 2012 supports the forecast trend for Canadian oil supply, with growth backed by both conventional and non-conventional oil. However, the various operational setbacks during the second quarter reduced output. During the first half of 2012, Canada oil supply averaged 3.78 mb/d, an increase of 0.35 mb/d compared to the same period a year earlier. During the second half, Canada oil supply is expected to remain steady compared to the first half on balanced growth and outages. On a quarterly basis, Canada's supply is expected to average 3.81 mb/d, 3.75 mb/d, 3.74 mb/d, and 3.82 mb/d, respectively.

Mexico oil production is predicted to decline by 30 tb/d in 2012 to average 2.91 mb/d, flat from the previous month. According to actual production data, Mexico oil supply indicated a minor decline in July compared to the previous month. The decline came mainly from lower output from the Ku Maloob-Zaap (KMZ) fields, where production averaged 842 tb/d.

However, Mexico output during most of August recovered to reach the highest level so far in 2012. During the first seven months, Mexico oil production averaged 2.92 mb/d, a decline of 50 tb/d compared to the same period in 2011. Updated data showed that Cantarell field supply averaged 400 tb/d during the first seven months of 2012, lower by 45 tb/d from the average of the field's output in 2011. Production stabilization, natural decline and limited new developments remain the main characteristics of Mexico's oil supply forecast in 2012. On a quarterly basis, Mexico's oil supply is seen to stand at 2.92 mb/d, 2.93 mb/d, 2.90 mb/d, and 2.88 mb/d, respectively.