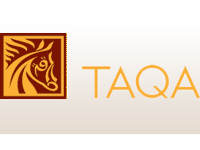 Abu Dhabi National Energy Co (TAQA) is in advanced talks to buy a stake in an oil block in Iraqi Kurdistan by taking a majority interest in General Exploration Partners (GEP), industry sources said.

GEP is a joint venture between privately held Aspect Energy, which owns a 66.5 percent interest; with the remainder held by a subsidiary of Canadian group ShaMaran Petroleum.

Industry sources said TAQA was close to purchasing Aspect's share of GEP, but it was not clear whether ShaMaran would sell its interest in the company.

"I do not know that the deal is done yet, but it is all but done," one industry source said.

An autonomous region since 1991, Iraqi Kurdistan is often touted as one of the final frontiers for onshore oil exploration and has signed deals with foreign majors such as Exxon Mobil, Chevron and Total.

But those deals have angered the federal capital Baghdad, which rejects oil contracts offered by the Kurdistan region's government as illegal, and has blacklisted some firms that ventured north.

TAQA CEO Carl Sheldon declined to comment on the GEP deal, but said Kurdistan was attractive: "We like Iraq, there's a range of opportunities in the Kurdish region," he told Reuters in an interview in Abu Dhabi.

Earlier this year, TAQA bought a 50 percent stake in Kurdish power plant Chamchamal, having previously invested $46.6 mln in WesternZagros Resources to acquire 19.9 percent of the company, which has contracts for two blocks in the Iraqi Kurdish region.

GEP was not available to comment.

An Abu Dhabi source said the deal was "imminent", but gave no further details.

GEP, which has an 80 percent stake in the Atrush block in Kurdistan, said in September it had found a combined flow rate of 42,200 barrels of oil per day. The other 20 percent of the block is held by Marathon Oil Corp.