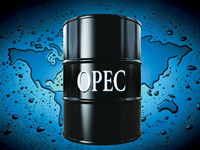 The crude oil futures markets ended December and the year moving in a different direction. While posting a gain in December, front-month WTI registered its first annual loss since 2009. In contrast, the front-month ICE Brent posted its third consecutive annual gain, despite slipping marginally in December. In 2012, increasing US shale oil production has weighed on WTI, while geopolitical considerations, outages in the North Sea and increased trading volumes in the ICE Brent contract have all supported the Brent price. Unlike 2011, crude oil prices in 2012 were generally stable, especially considering the political turmoil that spread through many countries in the key producing areas of the Middle East. Meanwhile, the boosted production in US shale oil was offset by the loss of production in North Sea, Sudan, Yemen and elsewhere.

In December, amid supportive US commercial crude stock data, strong economic indicators and perceived progress in the negotiation to prevent a possible US budgetary fiscal cliff, the Nymex WTI front-month contract managed a slight increase, ending the month with a return above $90/b, the highest month-end settlement since mid-October. News that the Seaway pipeline would be expanded from 150,000 b/d to 400,000 b/d as soon as early January, also supported WTI prices. The expanded capacity will help bring more crude from Cushing to the Gulf Coast, alleviating the glut of discounted landlocked crude in the US.

Furthermore, it was announced that the pipeline should reach its final designed capacity of 850,000 b/d as soon as 1Q14, suggesting that the expansion works are well underway. In contrast, fears over the impact of the impending budgetary fiscal cliff in the US and persistent weakness in the Euro zone dragged the ICE Brent front-month lower in December. Earlier in the month, the European Central Bank said the Euro-zone's economic outlook remains poor. The warning came on top of reduced growth forecasts for the UK.

On Nymex, the WTI front-month improved by $1.49 to average $88.23/b in December, while ICE Brent decreased by 31˘ to average $109.22/b, below the key $110/b level. Compared to the gains of over 30% in the previous year, the front-month WTI average was down by almost 1% in 2012 at $94.20/b, while ICE Brent was slightly higher by 0.73% at $111.70/b. On 15 January, ICE Brent stood at $110.30/b and Nymex WTI at $93.28/b.

Data from the US Commodity Futures Trading Commission (CFTC) showed that on average speculators increased their net long positions in US crude oil futures and options positions in the month of December. Hedge funds and other large investors increased their net long positions on the Nymex by 33,797 contracts to 149,893, an increase of almost 30%. This is the biggest increase since August, both in absolute and relative terms, and is in line with the recent announcement that the Seaway pipeline expansion is to start up next month. On the other hand, ICE Brent managed money net long positions in December have increased by 30,990 lots to 139,111 contracts. Moreover, lately the net length in Nymex WTI and ICE Brent managed money positions have been almost equal. Most recent data even indicates that Brent surpassed WTI in net length. While length in WTI positions has been ailing in recent months, ICE Brent positions are currently on the upside in a historical perspective. This is in line with an increase in total open interest in the ICE Brent crude contract.

The contract is catching up with Nymex WTI as a growing number of commodity indices are increasing the weighting of ICE Brent and managed money is following. In addition to this, the backwardated structure of Brent encourages net length due to rollover profits. Compared to the last year the ICE Brent managed money net long positions increased by a hefty 70%, while Nymex positions were lowered by almost 10%. The total open Interest volume in the two markets decreased in December by 52,540 contracts to 3.65 million lots.

The daily average traded volume during December for WTI Nymex contracts decreased by 95,648 lots to average 430,791 contracts. ICE Brent volume also dropped by 96,563 contracts to 439,984 lots. However, as noted above, the increasing importance of ICE Bent over 2012 was reflected in the substantial increase of the total volume traded during the year. In 2012, monthly trading volumes of ICE Brent have been constantly above those of Nymex WTI and in the January-December period, the daily average of ICE Brent trades was 13,760 lots, or 2.5%, above Nymex WTI. For the first time, ICE Brent trading volumes overtook those of Nymex WTI by more than 6.5 million contracts. In 2012, total traded Nymex WTI volume was 141 million contracts, compared to 175 million lots in 2011, 19% lower y-o-y. ICE Brent traded volume was 148 million lots versus 132 million contracts in 2011, a 12% increase.