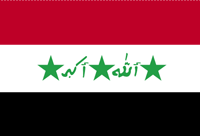 Gunmen attacked a contracting company in Iraq's Akkas gasfield, killing at least three local workers and kidnapping two more before burning their camp in the remote western desert.

Akkas, operated by Korea Gas Company (KOGAS) in Anbar province near the Syrian border, is still not producing gas. But the attack is another indication of increased insurgent presence along the frontier where Syria's war is spilling into Iraq.

"Gunmen in vehicles attacked the headquarters of a local company hired by KOGAS to do work in the field," said the mayor of nearby al Qaim town, Farhan Ftaikhan. "They killed an engineer and two workers and kidnapped two more. Before they left they set fire to vehicles and offices."

No group claimed responsibility for the late-night assault, but security officials say the local wing of al Qaeda, the Islamic State of Iraq, is regaining ground in the remote hills, caves and villages along the Syrian border.

Ten years after the U.S.-led invasion, Iraq still struggles with political instability and Sunni Islamist fighters who often attack Shi'ite Muslims to try to provoke the kind of sectarian confrontation that killed thousands at the height of the war. But al Qaeda in Iraq is also now linked to Sunni Islamists fighting in neighboring Syria. Officials say it has been invigorated by arms, insurgents and support flowing to rebels battling against President Bashar al-Assad across the border.

The Akkas strike was the second large attack. Earlier, a suicide bomber driving a fuel tanker packed with explosives hit a local government compound and killed at least nine people in the northern city of Tikrit.

Attacks on Iraq's energy sector are less common, and usually hit pipelines, as country builds up its oil production to more than 3 million barrels per day after signing massive deals with foreign companies to develop its reserves.

Iraq, which holds the world's 10th largest gas reserves, has said the priority for the Akkas field would be domestic consumption once it starts production. Baghdad signed a final deal for the field, which has reserves of 5.6 trillion cubic feet, in October 2011 after months of delays because of disagreements between the central government and Anbar provincial officials over terms.