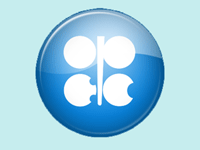 US oil production is expected to average 11.33 mb/d in 2014, an increase of 0.56 mb/d over 2013. This increase will be the highest among all non-OPEC countries. The outlook in 2014 is supported by anticipated healthy onshore tight oil developments, aided by rising investment. In 2013, oil drilling activities continue to improve, with a relatively steady number of rigs drilling a significantly higher number of wells as operational efficiency improves.

While drilling efficiency is expected to continue to improve in 2014, it will take place at a slower rate than in 2013, when operators achieved more than 40% progress at some locations. The assumed number of wells for 2014 is higher than for 2013, however, the associated high decline rate of tight oil wells is assumed to impact growth and result in lower supply increases compared to the current year.

Supply growth is expected from basins in Texas, North Dakota, New Mexico, Montana, Wyoming, Colorado and others. Additionally, new developments in the Gulf of Mexico are expected to support the outlook, such as Jack S. Malo, Big Foot and Lucius. New offshore and onshore developments are seen as supporting continued strong US supply growth. Despite the anticipated strong growth from tight oil developments in 2014, a certain level of risk remains, mainly in the current oil price, infrastructure and environmental issues. Moreover, weather conditions in the Gulf of Mexico could have a major impact on US supply in 2014 during the hurricane season.

Biofuel production is projected to provide further support to US output in 2014 to meet renewable fuel requirements. However, price levels and blending economics remain risk factors for biofuel growth in 2014 as does the harvest season this year. On a quarterly basis, US oil supply in 2014 is expected to average 11.02 mb/d, 11.14 mb/d, 11.39 mb/d and 11.75 mb/d, respectively.