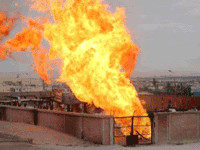 Tribesmen bombed Yemen's main oil pipeline in the central Maarib province, a government official said, the fourth attack on the pipeline in a month. The attack, which stopped oil flows from the Maarib fields to the Ras Isa oil terminal on the Red Sea, caused a fire and damage to the pipeline about 40 km (25 miles) from where it starts in Maarib, the official said. No casualties were reported.

The pipeline was set on fire earlier this month after threats by a Yemeni tribe following a siege on its leader's house by security forces. Tribesmen often carry out such attacks to put pressure on the government to meet demands including jobs, land disputes or freeing relatives from prison.

Yemen, which relies on crude exports to finance up to 70 percent of budget spending, has suffered frequent bombings of its main pipeline since an anti-government uprising broke out in 2011. Yemen - which borders Saudi Arabia, the world's top oil exporter - is struggling to reassert state control over the country against one of the most active franchises of the al Qaeda network founded by Osama bin Laden. It is also facing a growing secessionist movement in the south.