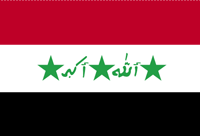 Iraq's central government has asked the autonomous Kurdish region to connect its new oil pipeline with one from Kirkuk to Ceyhan in Turkey in a way that allows Baghdad to measure crude flows, Iraq's deputy prime minister for energy affairs said.

Kurdistan is expected to complete the new 300,000 barrel per day (bpd) oil pipeline to Turkey in the next few weeks, increasing the Kurdistan Regional Government's (KRG) control over its resources in a dispute with Baghdad.

"We have asked the KRG to connect it to the Kirkuk-Ceyhan pipeline before the pumping station so that we can meter exactly how much crude has been pumped," Hussain al-Shahristani said, adding that Baghdad had not received any response.

Oil is at the heart of a dispute between the Arab-led central government and the ethnic Kurdish-run northern enclave over control of oilfields, territory and crude revenues.

Sales of Kurdish oil via the federal pipeline system have been blocked in the dispute between the two governments, and the two sides are not currently in talks to resolve the row over payments to oil companies working in the region.

"No, there has been no discussion with the companies or with the KRG (on oil payments)," Shahristani said on the sidelines of the Gulf Intelligence Energy Markets Forum in Dubai.

The KRG rejection of Baghdad's claimed authority over the exploration and export of the country's oil resources last week inspired the provincial council of Nineveh to give its governor the power to sign deals with foreign oil firms.

Shahristani said the predominantly Sunni Muslim governorate in Iraq's northwest lacked the political weight that had allowed the KRG to push its own oil plans despite disapproval from Baghdad.

"They can't... its even more difficult because at least the KRG has the status, Nineveh cannot do that," he said.

EXXON STAKE
ExxonMobil, the world's largest publicly traded energy company, angered Iraq by signing production-sharing contracts with Kurdistan for the exploration and development of six blocks in 2011. Two of those blocks are in areas where Nineveh and Kurdistan both claim jurisdiction.

The company is now looking to sell its stake in the West Qurna-1 oil field in southern Iraq. Shahristani declined to identify the buyers.

He said Exxon had made a "serious error" when it negotiated with the KRG, and that Baghdad has asked Exxon to reduce its presence in southern Iraq as a result.

"Exxon has decided to scale down, based on our request. We have asked Exxon to scale down on the West Qurna and they have decided to sell," he said, adding that Exxon would stay on as operator of the field "for the time being."