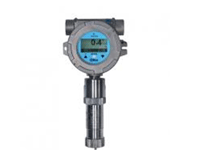 RAE Systems Inc., the leader in connected gas and radiation detection solutions, today introduced a new line of advanced, fixed-systems gas detection products that elevate safety for workers and responders operating in hazardous industrial environments. These monitors include the RAEGuard 2 photoionization detector (PID) for continuous volatile organic compound (VOC) monitoring, and RAEAlert toxic and flammable fixed gas detectors and FMC system level controllers. RAEGuard 2 PID - Fixed Detector for VOC monitoring in hazardous and non-hazardous area locations.

Workers at industrial facilities and oil and gas refineries face the constant threat of exposure to toxic and combustible gases at potentially lethal levels. Safety officers need solutions in place that allow for continuous gas monitoring to enhance plant-wide safety and mitigate risk via an advanced system approach.

RAEGuard 2 PID Fixed Detector
The new RAEGuard 2 PID offers continuous VOC monitoring in hazardous and non-hazardous area locations, with fast response times and a high level of accuracy of readings. Its proprietary third-generation PID sensor technology allows a wide range of resolutions that can be as low as 10 ppb and as high as 1,000 ppm. Maintenance costs have been significantly reduced due to an easily removable / replaceable sensor module. The sensor and lamp can be removed without tools and serviced in any location, which greatly simplifies calibration and maintenance requirements.

The RAEGuard 2 PID's explosion-proof stainless-steel enclosure makes it suitable for outdoor applications in hazardous Class I, Division 1 (ATEX Zone 1) environments.

RAEAlert Fixed Detectors
The RAEAlert line of fixed gas detectors delivers an economical solution for continuous air monitoring in hazardous environments. This highly scalable solution offers up to nine different sensor options, optional LCD displays, optional relays, and optional infrared remote controllers. The RAEAlert line provides safety officers with maximum flexibility in system design by including sensor options for flammable, oxygen and various toxic gases.

The explosion-proof design uses cast-aluminum housing and is certified for use in Class I, Division 1 (ATEX Zone1) environments. All RAEAlert detectors communicate via 4-20mA analog or RS485 digital signal protocols, and non-intrusive calibration and maintenance are performed with an intrinsically safe infrared (IR) remote.

Fixed Systems Controllers: FMC 2, 4, 16 and 64
RAE Systems is also introducing four new fixed systems controllers that are compatible with the RAEGuard 2 PID and RAEAlert line of fixed detectors. The FMC-2, FMC-4, FMC-16, and FMC-64 controllers are highly configurable and customizable, and provide simultaneous display and alarm functions for up to 64 sensor transmitters. These easy-to-configure, user-friendly controllers are ideal for centralizing display and alarm functions in critical multi-point monitoring applications.

All of the controllers offer configurations that are certified for use in Class I, Division 2 hazardous environments. The FMC-64 offers advanced network capabilities and IP-addressable remote log-in for simultaneous viewing and sharing of time-critical threat data across geographically dispersed teams.

"Industrial organizations cannot afford to risk worker, responder or public safety when a critical situation arises," stated Thomas Negre, vice president of products and marketing for RAE Systems. "The new RAEGuard 2 PID, RAEAlert fixed detectors and FMC controllers give safety officers access to the most complete, comprehensive solution for continuous monitoring throughout a facility. RAE Systems' new monitors and controllers provide a cost-effective and highly customizable system approach for enhancing plant-wide safety and mitigating risk."

Availability
The RAEGuard 2 PID is available now in all regions. The RAEAlert will be available beginning in October 2013 in the EU and other regions that accept IECEx and ATEX approvals. RAEAlert will be available by the end of the year in North America and other regions that accept UL and CSA approvals. The FMC controllers will be available beginning in October 2013 in North America and will be available by the end of the year in regions that require CE approvals. Customers interested in obtaining more information or purchasing the new RAEGuard 2 PID, RAEAlert fixed detectors and FMC controllers should contact their RAE Systems Distributor or RAE Systems regional sales manager.