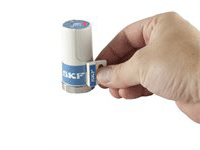 SKF has won a prestigious Design News Golden Mousetrap award for the SKF Machine Condition Indicator (MCI). SKF's condition monitoring tool, which offers a cost effective and easy-to-use method of monitoring machine health, was voted Best Product of the Year for Electronic & Test in the category Test & Measurement. The award was presented at a ceremony held in February at the Anaheim Marriott in California.

"We are delighted that the MCI has received this award," said Torsten Bark, Product Line Manager for the SKF Machine Condition Indicator at SKF. "The SKF MCI is the result of some extremely successful development work, resulting in a sophisticated yet simple tool. On one hand the SKF Machine Condition Indicator is as simple as a "check engine" light, on the other hand an advanced algorithm prevents the unit from false alarming. The MCI truly has SKF knowledge engineering behind it."

The SKF Machine Condition Indicator is a low-cost vibration and temperature monitoring device designed for rotating machinery with constant operating conditions. It provides the ability to track basic machine health on assets that are not currently being monitored on a regular basis. By utilizing the SKF Machine Condition Indicator, plant operators can save both time and money by freeing up maintenance engineers to spend less time on problem detection and more time focusing on root cause analysis and other more significant issues.

The Golden Mouse Trap Awards celebrate the companies, products, and people who are energizing North American design, engineering, and manufacturing and the recognition of SKFs MCI underlines the capability of SKF to support this development.