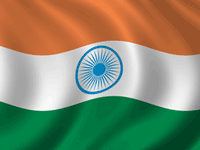 In April, India's crude imports increased by 549 tb/d or 16% from the previous month to average 4.0 mb/d, rebounding after the drop it saw in the previous month. Crude imports reflected an annual increase of 37 tb/d or 1%.

On the product side, India's imports saw an increase m-o-m of 91 tb/d or 25% to average 454 tb/d, while y-o-y, they gained by 106 tb/d or 30%, mainly as a result of increased volumes of LPG, which rose by 23% from the previous month, followed by fuel oil imports, which more than doubled from a month before. Product imports increased in line with the increase in product sales in April, which went up by 2.4% y-o-y.

India's product exports declined in April by 290 tb/d or 20% to average 1.1 mb/d, the lowest level seen since April 2012. On a y-o-y basis, product exports declined by 122 tb/d or 10%. This decline was registered in all products, with no exception, due to the refinery maintenance season, however, the maximum drop was seen in diesel oil exports. Consequentially, India's net imports increased by 930 tb/d to average 3.3 mb/d, reflecting a gain of 38% m-o-m and 9% from last year.