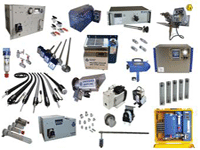 Ankersmid have designed, developed and manufactured a complete product portfolio of gas conditioning products. a1-cbiss ltd selected the Ankersmid products to be integrated into the sampling system because of their good reputation and the excellent product features.known for their innovative and high performance gas conditioning and analysis equipment, Ankersmid now supply these gas conditioning products worldwide.

A1-cbiss ltd are also the UK distributor for Ankersmid selling these components to gas analyser manufacturers, gas monitoring system integrators and those who have existing gas monitoring sites and are looking to replace components.

Gas Sample Probes
The Ankersmid gas sample probes are designed for continuous gas sampling in processes that struggle to cope with high or low dust content, varying temperatures and extreme humidity. The biggest advantage of the Ankersmid probes is that the inner probe body can be retracted for easy changeover of the sample tube and pre-filter without dismounting the probe.

Ankersmid have designed stationary probes for applications where the probe is required to be left in-situ and portable probes which are used by stack testers or by engineers that are taking gas samples from different locations.

Within the gas sample probes, gas sample tubes are inserted to hold the gas sample from the process, these are either heated or unheated sample tubes, available in different lengths and can be heated up to 180°C or 320°C in Denox applications. The probes are easy to mount and maintain.

Pre-filters that are easily inserted into the probe housing offer maximum protection because of the various materials available to absorb particulates.

Heated Sample Lines
Ankersmid's heated sample lines are designed to ensure that gas components in the sample stream remain above their ACID-dew point, and thereby eliminate the risk of condensation. Controller regulated heated lines are available at up to temperatures of 250°C and ATEX for hazardous areas.

Gas Coolers
The uniquely designed coolers have been designed with an extremely stable low gas dew point of 4°C but can be changed at any value between 1 and 15°C to avoid water vapour cross sensitivity and volumetric errors.

Universal Filters
Once the gas sample has reached the gas conditioning system, it must pass through another filter. The Ankersmid universal filters are a reliable technique for the separation of particulates from gas, ensuring a clean flow of gas. These filters are available in PVDF, PTFE and SS316.