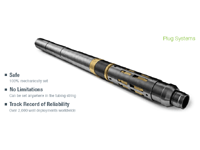 Peak Well Systems has significantly expanded its product portfolio with the launch of its new SIMPLUS range of V3-Grade plugs certified to ISO14310. The portfolio employs an ISO-14310 Grade V3-rated SIMPLUS Retrievable Bridge Plug for well barrier applications in monobore wells, creating a reliable and high performance downhole seal.

The SIMPLUS Retrievable Bridge Plug can be deployed by all conventional means (drill pipe, coiled tubing, wireline and slickline). It is believed to be the only mechanically-set V3-rated plug available, thus providing a simple and easy setting solution. Development of the SIMPLUS Retrievable Bridge Plug sealing system is the result of extensive R&D, testing and analysis, utilising Peak's history in deploying reliable SIM Systems that are already well established as products of choice amongst operators worldwide.

In a similar approach to Peak's highly successful SIM System which has seen over 2,000 successful deployments and retrievals worldwide, the new SIMPLUS range of products is also modular. SIMPLUS employs interchangeable components which facilitate a variety of downhole applications such as zonal isolation, wellhead isolation, contingent plugging, straddles and chokes. The large internal diameter (ID) of the SIMPLUS Retrievable Bridge Plug makes this sealing system ideal for modular straddle systems that can improve well performance significantly.

Nigel Avern, Chief Executive of Peak Well Systems, commented: "Comprehensive testing has been successfully performed and subsequently independently verified and certified by Det Norske Veritas Perth." SIMPLUS Retrievable Bridge Plugs are available in all sizes from 2 7/8" up to a larger 7" size.

"We anticipate considerable demand for SIMPLUS amongst North Sea customers who already specify Peak products in their Flow Control intervention work elsewhere in the world and can now benefit from the same flexibility and reliability in applications that require specific well integrity conformance. Our SIMPLUS products will be made available to customers through our expanding Rental and Service business operations, ensuring that customers benefit from our Peak Field Specialists who are highly trained and experienced in plug system deployments."

The launch of the SIMPLUS range coincides with the promotion of Peak's large Rental Inventory available from the company's new Technology Centres in both Dubai and Aberdeen.