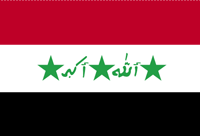 The Republic of Iraq, represented by its Ministry of Oil, commenced legal proceedings in the Court of Piraeus, Greece, against Marine Management Services M.C. ("MMS"), the company responsible for the management of several oil tankers involved in the illegal export of Iraqi crude oil by the Kurdistan Regional Government ("KRG").

MMS operates five vessels – the United Leadership, the United Emblem, the United Kalavrvta, the United Carrier and the United Dynamic – that have transported illegally exported crude oil on behalf of the KRG. MMS has actively facilitated the KRG's illegal export scheme, repeatedly ignoring warnings that the crude oil it was carrying does not belong to the KRG. MMS has lared false destinations for its tankers, turned off the ships' Automatic Identification System transponders to avoid detection (violating international safety regulations), and undertaken dangerous nighttime ship-to-ship transfers of crude oil on the high seas.

The lawsuit also names as defendants the management and board of directors of MMS and the companies that own the vessels in question. MMS is liable for damages of at leastUS$ 318 million, and possibly significantly more, as a result of its willing and active participation in the KRG's illegal crude oil export scheme.

The action against MMS reflects the policy of the Government of Iraq to hold responsible intermediaries, buyers, producers, shippers and other parties that assist the KRG in exporting crude oil in violation of the Iraqi Constitution and Iraqi law. Under the Constitution, crude oil belongs to all of the people of Iraq, and cannot be appropriated by one region. Parties such as MMS that assist the KRG are depriving the people of Iraq of their Constitutionally protected entitlement to this crude oil.