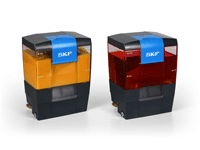 SKF announced the introduction of the pneumatically driven PPS30 piston pump for small- to medium-sized oil and fluid grease lubrication applications up to NLGI 00 and 000. Featuring a compact, modern industrial design, this affordably priced pump is constructed from lightweight, high-performance plastics.

The PPS30 piston pump is simple to install and provides a flexible connection system for convenient mounting. Because it is pneumatically driven, this pump is not limited by international voltage or plug standards and can reduce pump inventory needs, as no separate stock keeping of oil and fluid grease is necessary. In addition, the PPS30 piston pump can reduce operating costs over the unitís life cycle through minimal compressed air consumption.

The pump unit features an integrated relief valve and electronic sensors, as well as visual fill-level monitoring that is supplemented by an electronic pre-warning function. Simple to clean, the PPS30 piston pump has a central reservoir opening that fills from all sides and a forward-opening flap for drip protection.