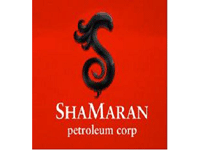 ShaMaran Petroleum Corp. is pleased to announce positive test results from the Atrush-3 well in the eastern part of the Atrush structure (Atrush Phase 2 appraisal area) in the Kurdistan Region of Iraq.

Following the testing of the Chiya Khere-6 ("CK-6") Phase 2 area appraisal well announced in January 2015, the drilling rig was skidded over to the adjacent Atrush-3 ("AT-3") well location. The well was re-entered in order to finish the inconclusive well testing program announced on August 26, 2013.

The test consisted of a single commingled interval through two sets of 12-metre perforations which flowed with a maximum oil rate of 4,900 bopd (barrels of oil per day), using an electrical submersible pump. Oil gravity was measured at 14 degrees API oil.

During the testing of both AT-3 and CK-6, pressure gauges monitoring interference in the Atrush-2 well (a distance of 6.5 kilometres from both wells) demonstrated that the Phase 2 appraisal area is in pressure communication with the Phase 1 development area. Full analysis of both CK-6 and AT-3 well testing results is ongoing.

Chris Bruijnzeels, President and CEO of ShaMaran, commented "The AT-3 well test results now confirm the CK-6 results and demonstrate high productivity in the eastern part of Atrush and good communication across the field. I am confident that these excellent results will help us to create value from our contingent resources."

The Atrush Block is operated by TAQA Atrush BV ("TAQA") and is held 39.9% by TAQA, 20.1% by ShaMaran Petroleum Corp through its wholly owned subsidiary General Exploration Partners, Inc., 15% by Marathon Oil KDV B.V., (a wholly owned subsidiary of Marathon Oil Corporation (NYSE: MRO)), and 25% by the Kurdistan Regional Government of Iraq.