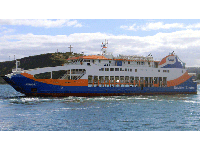 Autoship Systems Corporation (ASC) of Vancouver, Canada is pleased to have supplied and supported a leading naval architecture office in Chile for the past 14 years. Consultoria Naval Maritima Ltda (CNM) have used both Autoship Pro (hull design) and Autohydro Pro (hydrostatics and stability) on many projects since becoming users in 2001.

Recently, CNM has completed the marine engineering on an important newbuild using Autoship for the hull design, followed by Autohydro to complete the stability book.

The 72M RoPax 'Queulat' was successfully completed on time for an Australian ferry operator. The vessel was built at a shipyard in China.

CNM also specialize in retrofits of vessels in their area and have recently completed major work on the 35M fishing vessel 'Pan Atacama IV' and the 54M 'Ferry Fiura'. In addition CNM use Autohydro extensively for checking stability on many ships in their area including the Chilean Navy fleet.

CNM's Managing Director, Mr. Eduardo Ojeda states, "The reason we remain loyal customers of Autoship Systems Corporation is two-fold. Their software is robust enough to meet all of our marine engineering requirements, and almost equally important, their Technical Support Department is really impressive. Many times we've been under a deadline and had a complex macro to write in Autohydro that needed checking. One email and the next business day we had a correction back from the Autohydro Technical Manager that got us back on track and we met our deadline."

For over 30 years, ASC has provided premier design software solutions for naval architects and marine engineers the world over. ASC also produces world-class loading instruments and load planning systems for the entire marine shipping industry.