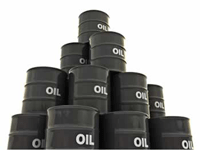 Oil production in the FSU is expected to decline in 2015 by 0.13 mb/d, including 60 tb/d in Russia, 20 tb/d in Kazakhstan, 40 tb/d in Azerbaijan and 10 tb/d in FSU Others, mainly Turkmenistan. Kazakhstan's January production declined m-o-m by 65 tb/d to 1.63 mb/d.

Tengiz output was lower by 50 tb/d, despite aims to keep it stable, much like in 2014. Kashagan is unlikely to start up until 2017, and the Tengiz expansion has been delayed to 2021. In Azerbaijan, January output was pegged at 0.87 mb/d, higher m-o-m by 30 tb/d. The ramp up of the central Azeri platform after maintenance in late November supported output.

FSU total output in 2015 on a quarterly basis is predicted to be 13.50 mb/d, 13.32 mb/d, 13.21 mb/d and 13.17 mb/d, respectively.

Oil production in Russia is expected to decline by 60 tb/d in 2015 to average 10.51 mb/d, given the impact of sanctions, low prices and a lack of large projects expected to come online, making declines from Western Siberian assets more apparent. Nevertheless, the production outlook for the coming months is uncertain. Russia's February oil output fell m-o-m by 60 tb/d to 10.65 mb/d from an upwardly revised January total, with y-o-y growth at 80 tb/d. The delayed start-up of Exxon's Arkutun-Dagi field in early January provided a boost, but it is expected to decline later in the year.

Oil and gas account for around 70% of Russia's exports, of which about four-fifths come from crude oil or petroleum products and the rest from natural gas. Russia is trying to benefit from new sources of hydrocarbons in different regions of the country. Gazprom Neft recently reported the start of shale oil production from the Bazhenov formation during the testing of two wells in the southern Priobskoye field in centralwestern Siberia. In addition, the company has been analyzing 3D seismic data and well-core data from the Bazhenov-Abalak formation in southern Priobskoye, with four directional wells planned in the first stage. The Abalak formation lies beneath the Bazhenov formation. Another shale project involves the Palyanovsky reserves in the Krasnoleninsky field, also in the Khanty-Mansiysk Autonomous Region. Drilling of the first well has been completed, with multistage hydraulic fracturing expected to begin soon.

ExxonMobil, operator of the Sakhalin I development, also announced the start of production at the Arkutun-Dagi field offshore Sakhalin Island. Arkutun-Dagi is the last of the three Sakhalin I fields, including Chayvo and Odoptu, to reach production. With a peak production of 90 tb/d, Arkutun-Dagi will increase total Sakhalin I production to almost 200 tb/d. Russia needs to compensate declining volumes from brown fields with output from new projects. Despite this, the country faces a big challenge due to sanctions, devaluation of the ruble and an oil price drop in 2015; every $1 fall in the oil price reduces Russia's annual export earnings by $3 billion. This means that if the oil price stays at the current $55 per barrel for a year, Russia will earn around $135 billion less in 2015 than in 2014 assuming $100/b for that year – equivalent to around 10% of its gross domestic product. Preliminary predictions indicate that Russia's quarterly oil output in 2015 would be at 10.64 mb/d, 10.54 mb/d, 10.47 mb/d and 10.42 mb/d, respectively.