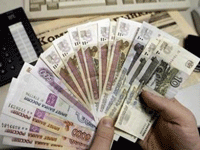 In February, the ruble lost 4.8% m-o-m of its value against the dollar, signalling the slowest pace of depreciation in four months. This followed depreciation rates of 12.5%, 20.8% and 11.4% m-o-m during November, December and January, respectively.

Inflation continued an upwards trend for the seventh consecutive month in February, increasing to 16.7% y-o-y, up from 15% a month earlier. This is the highest inflation since March 2002. Sugar prices rose by 67% y-o-y, and fruits and vegetables by 43% y-o-y. After raising its benchmark interest rate from 9.5% to 17.0% in December 2014, the central bank lowered it last month to 15%. In January, the unemployment rate increased for the fifth month in a row, highlighting the longest period of rising unemployment rate since the financial crisis of 2008/09.

The composite PMI reading of February suggests a faster deceleration in the economy as the surveyed output had its largest rate of decrease and fell to a 69-month low of 44.7. On the services side of the economy, the correspondent PMI of February remained in contraction territory for the tenth time in the past 12 months. In the Russian services sector, businesses received sharply lower new orders in February, the fastest drop in almost six years. While on the manufacturing side, the index indicated a marginal deceleration, staying slightly below the neutral level of 50. The manufacturing PMI of February posted 49.7, up from 47.6 in January. Import substitution improved domestic demand and resulted in higher manufacturing production. New export orders, however, slid at their sharpest pace since October 2014. The historic relationship between PMI and GDP suggests a 2% y-o-y decline in GDP on the basis of survey data of January and February 2015. This, however, does not take into account the direct impact of the country's worsening trade balance. Considering the direct and negative impacts of lower export revenues, GDP is anticipated to contract 3.2% in 2015, while Russia's economy ministry forecasts a GDP contraction of 3% this year.