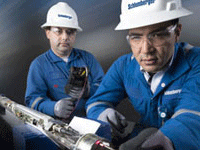 Schlumberger has released the ACTive OptiFIRE* coiled tubing real-time selective perforating and activation system that enables perforating with coiled tubing (CT) fiber-optic real-time telemetry. The selective perforation process is repeatable at different precise depths with positive indication of each firing and hydrostatic pressure control—all in a single run—saving time and operational costs.

"Operators currently have no method for perforating multiple non-contiguous zones when deploying guns on coiled tubing without requiring multiple runs or using a CT logging reel," said Sameh Hanna, president, Well Intervention, Schlumberger. "The ACTive OptiFIRE system facilitates efficient operations with fiber-optic real-time telemetry for depth correlation and selective activation and confirmation. Eliminating the need to pump fluid to detonate reduces the overall perforating costs and improves hydrocarbon-to-market time for our customers."

The ACTive OptiFIRE system allows for arming the perforating guns on demand, and firing each gun individually from the bottom up and is repeatable up to 10 times. This new technology does not require a ball drop, pressure pulse system or fluids to detonate for reduced risks during perforating. The system can be safely used during underbalanced perforating, in low pressure wells or unconsolidated reservoirs.

During lab testing, the ACTive OptiFIRE system successfully actuated more than 40 simulated detonators at the full temperature rating of 347 degF (175 degC) and has been field tested in more than 10 interventions in challenging onshore and offshore conditions, including Mexico and Malaysia.

In Mexico, a customer needed to increase production by reperforating a single zone historically inaccessible by conventional means of intervention without having to kill the well or delay production. The ACTive OptiFIRE system was used to access the zone at 13,327 ft-MD (4,062 m-MD), accurately place the perforating guns, and confirm downhole detonation in a single run. The system enhanced intervention safety, reduced perforating time by 75%, and allowed the operator to clean and kick off the well without needing additional equipment in the same run for increased efficiency.