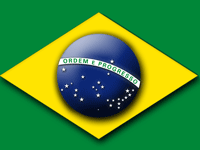 The economy of Brazil contracted by 0.2% y-o-y in the 4Q14, bringing GDP growth in 2014 to 0.2% y-o-y, the slowest since the 2009 recession. Private consumption increased by 1.3% y-o-y in the 4Q14, the lowest 4Q growth since 2003. GFCF declined by 5.8% and government consumption decelerated by 0.2% in the same period. The trade balance was another trigger of GDP slow-down in the 4Q14 with exports falling by 10.7% y-o-y, while imports were 4.4% lower.

The unemployment rate increased in February to 5.9%, up from 5.3% in January, as the number of unemployed surged by 10.2% and the number of employed decreased. This marks the highest rate of unemployment since June 2013. Inflation grew by 8.1% y-o-y in March, the highest rate since December 2003 and well above the 6.5% ceiling of the central bank's target range. Tax increases aiming at balancing the budget deficit have raised prices for basics like electricity, bus fares and gasoline, and directly resulted in increasing the rate of inflation. Consumer confidence dipped to a new record low in March, at 83.5 points, as a result of poor economic activity and sustained inflationary pressures.

The Brazilian real moved sharply lower in March, depreciating by 11.5% against the dollar. The stagnating economy, rising inflation and worsening consumer confidence have pressed the currency, which lost more than 18% of its value during the February- March 2015 period. The central bank raised its benchmark interest rate by 50 bp to 12.75% in early March, amid stubbornly high inflation. It is the highest interest rate since September 2011. The central bank is aiming to stop the real depreciation and curb inflationary expectations. It announced last month that it expects inflation to hit 7.9% in 2015, while it foresees economic growth contracting by 0.5%.