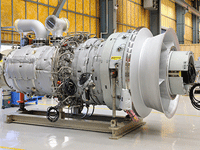 Siemens has been awarded a service and maintenance contract (in a frame of public procurement law) for the turbo-compressors operating at five compressor stations in Poland along the Yamal-Europe Transit Gas Pipelines System. The customer is EuRoPol GAZ s.a., a company owned by the Polish PGNiG, Russian Gazprom and Polish Gas-Trading S.A.

The new agreement provides four years of service and maintenance for 16 complete turbo-compressor trains, each consisting of an SGT-600 Siemens turbine and a 60P2 Dresser-Rand compressor, installed in gas compressor stations in the towns of Kondratki, Zambrow, Ciechanow, WAoctawek and Szamotuty. The stations have a total driving power of 400MW.

The service contract includes the survey and inspection of equipment, diagnostic services, supply of spare parts and the implementation of backup devices to achieve high operating reliability.

"The Yamal pipeline is of significant importance to the region and therefore the continued reliability and optimal operational performance of the technology working to support the pipeline is critical," said Thorbjoern Fors, CEO of Siemens Power Generation Services, Distributed Generation and Compressors business unit. "We look forward to applying our highest levels of service technology and expertise to the compressor trains at these five stations."

The five compressor stations were designed along the Polish stretch of the transit gas pipeline to assist with the flow of gas. The turbine-driven compressor units in the compressor stations compensate for pressure losses that occur when gas flows through the pipeline.

The Yamal-Europe pipeline system within Poland is part of the gas pipeline running from the Yamal Peninsula in Russia through Belarus and Poland to Western Europe. This line of the gas pipeline includes the five compressor stations, measurement stations as well as process communications systems and the SCADA (supervisory control and data acquisition) system.

EuRoPol GAZ s.a. owns approximately 684 km of the Polish section of the Yamal pipeline. The company provides gas transportation services to domestic and foreign customers. Surplus capacities are managed by the operator GAZ-SYSTEM SA, which offers gas transmission services via the Yamal-Europe Transit Gas Pipelines System. Since the pipeline began gas transmission in 1999, more than 400 billion cubic meters of gas have been delivered (according to GOST).