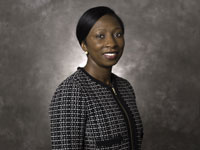 Amec Foster Wheeler announces the appointment of Hannah Sesay, as Global Head of Health, Safety, Security and Environment (HSSE), effective immediately.

Reporting to the Health, Safety, Security, Environmental and Ethics (HSSEE) committee of the Amec Foster Wheeler plc board, Hannah will be based in the company's Houston office. In addition to her global role of developing and implementing HSSE strategies, she will also fulfil the role of Senior Vice President, HSSE, for the Americas.

Commenting on her appointment, Will Serle, Group Human Resources Director, Amec Foster Wheeler plc said: "Hannah has managed worldwide Safety, Health and Environment programs for over 25 years, the last twelve of which have been as an executive leadership team member responsible for setting and executing Safety, Health and Environment strategy. I am delighted to welcome her to such a key role for our business."

Immediately prior to her appointment, Hannah was Vice President of Safety, Health and Environment at BAE Systems, a position she held since December 2006. She brings significant experience to Amec Foster Wheeler in the field of occupational safety, health and environment and has worked across a variety of industries including insurance, chemicals, defence, services and finance, both in the manufacturing and corporate environments.

Hannah has a Masters in Environmental Science from New Jersey Institute of Technology and Rutgers University and a Bachelor of Science in Industrial Safety Sciences Engineering and Environmental Health from Indiana University of Pennsylvania.