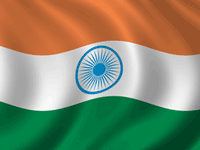 Developments in India's economy over the last few months have generally been favourable, and growth is expected to accelerate during 2015. Positive monthly indicators support high growth in India. Industrial production rising by 5% y-o-y in February and it increased for the fourth consecutive month. Expectations for a GDP growth rate of 7.5% in 2015 have been kept unchanged.

The annual inflation rate on the wholesale price measure was -2.1% in February, with core manufacturing prices up just 0.2%. CPI inflation also eased back to 5.2% in March from 5.4% in February and is expected to remain below 6%, which is the RBI's inflation target for January 2016 throughout this year. Lower inflation will improve consumers' purchasing power and encourage spending. It will also attract capital inflows by ensuring stable real returns on Indian assets, such as government and corporate bonds. The WPI has a much larger tradable component than the CPI and therefore has been much more responsive to the recent global commodity price plunge. March was no different, with mineral prices dropping another seasonally adjusted 2.9% m-o-m and non-food primary articles declining another seasonally adjusted 1.7%m-o-m, reflecting commodity price declines. However, more than just the first-round impact of lower commodity prices has driven WPI disinflation. Falling input costs, weak domestic demand and excess capacity in key manufacturing sectors have meant that core prices declined sequentially for the fourth consecutive month, falling a seasonally adjusted 0.3% m-o-m in March.

One of the positive aspects of the Indian economy is related to confidence improvement. In contrast to many other emerging markets, domestic and external sentiment towards India is very positive. This improvement was kick-started by the probusiness BJP winning a sweeping election mandate last May and has continued as a result of positive developments such as lower oil prices, monetary policy loosening and a number of reform initiatives. Obviously, taking account of these developments, the credit rating agency Moody's recently raised India's credit rating outlook from stable to positive. The general rise in confidence should feed through to higher consumer spending and investment. The RBI issued the central government's borrowing programme for the first half of the 2016 fiscal year in March 2015. The government is scheduled to borrow 60% of the total FY16 gross requirement (Rs 6 trillion) in the first half of FY16, in line with market expectations and similar to the borrowing in the first half of FY15.

The central government budgeted its fiscal deficit to narrow from 4.05% of GDP in FY15 to 3.94% of GDP, roughly 0.1% of GDP in consolidation. India's current account deficit narrowed to $8.2 billion (1.6% of GDP) in 4Q14 from $10.1 billion (2% of GDP) in 3Q. This decline mainly was due to a solid increase in the invisibles (service net exports, remittances, and investment income) balance although trade deficit widened but slightly.

Exports in India increased to $20.6 billion in March 2015 from $22 billion in February. Imports also increased to $35.2 billion in March 2015 from $30.4 billion in February. It seems part of the mentioned increase is related to gold imports, which rose to $4.9 billion in March 2015 from an average of $2.8 billion over the last 3 months. Balance of payments pressures remain a key risk for the rupee in the near term.

The RBI has warned that risks to Indian banks have increased in recent quarters. Public sector banks, which account for 70% of assets, are suffering the most, with stressed loans constituting 11.7% of their total loans. As a result, Moody's, the credit ratings agency, continues to hold a negative outlook on India's banking system.