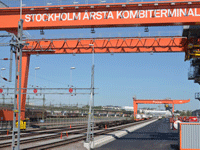 The EU funded EcoHubs R&D project (Environmentally COherent measures and interventions to debottleneck HUBS of the multimodal network favoured by seamless flow of goods) has successfully delivered a number of proven ICT tools which can increase capacity at ports and terminals, and can lead to significant reductions in carbon footprint.

Designed to support "Resource Efficient Europe", the flagship initiative of the Europe 2020 Strategy, EcoHubs has, for the last 30 months, researched and developed the tools required for sustainable freight transport and logistics networks as part of a smart, safe, environmentally friendly and inclusive EU economy.

Adria Kombi, a leading combined transport operator in Slovenia is deploying the CCIS (Container Interfacing and Consolidation System) tool in conjunction with the ecoTAURuS (Ecohubs Truck Appointment & Unit Reporting Status Services) system at the Port of Koper and estimates that when fully implemented, this will lead to a 20% increase in capacity. This increase requires no additional physical infrastructure investment and an improvement of throughput by 15%, equating to a 1.6 – 2.3 Million Euros in turnover can be realised.

As part of its efforts to provide a complete CO2 footprint measuring system which can calculate and declare the energy consumption and GHG emissions of transport services, EcoHubs also developed the ITEC (Intermodal Terminal Eco-Efficiency Calculator) tool.