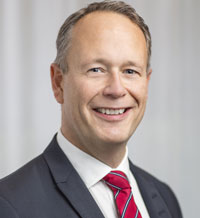 Alstom Transport has appointed Per Oster the company's current Managing Director for Sweden, as Managing Director of its Nordic operations. Per Oster succeeds Henrik Anderberg, who moves on within the Group and becomes HS2 (High Speed 2) Director of Alstom UK. In parallel to his Nordic role, Per Oster remains in his present position as Managing Director of Alstom Transport Sweden.

"My predecessor has successfully started the development of Alstom Transport activities in the Nordic countries which include signaling projects, the supply of regional trains, and number of major maintenance contracts. It is my goal now to further develop Alstom's activities in the region and offer its passengers reliable, comfortable and environmental-friendly transport solutions," said Per Oster.

Henrik Anderberg has served Alstom Transport as Nordics Managing Director since 2012, and will continue to remain on the board of Alstom Transport in Sweden and Norway as chairman.

Per was appointed Managing Director of Alstom Transport Sweden in 2014. He started his career with Alstom Transport in 2009 as Site Manager Sweden and Director of Aftermarket Nordics. Per came from a position as Fleet Manager at Nobina. Prior to that, he served several years on the A-Train AB / Arlanda Express as Head of Rolling Stock, Business Director and Technical Director. Per Oster has also held the position as Global Product Manager at Ericsson former Enterprise division in Sweden.