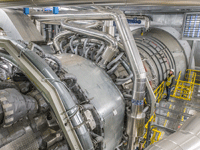 Alstom and RheinEnergie achieved an important milestone at the Niehl 3 gas-fired combined heat and power plant in Cologne by successfully accomplishing synchronisation with the electricity grid. This is the first time that the plant has fed energy into the German grid.

The Niehl 3 plant, which generates both electricity and heat from climate friendly natural gas, is based on Alstom's KA26 combined-cycle plant design for maximum operational flexibility coupled with high efficiency and district heating capabilities.

Within the framework of the energy transformation in Germany, the plant is designed to safeguard base load power [1] and thus the security of electricity supply, while also ensuring a high level of flexibility. Niehl 3 will generate 453 MW of electrical power and up to 265 MW thermal heating output – enough to supply up to one million households with electricity and around 30,000 households with district heating. With overall fuel efficiency of around 85 per cent, the plant is one of the most efficient in the world. Start of commercial operation is planned for spring 2016.

"With our new power plant, we are investing in the creation of a future-proof infrastructure which will secure the heat supply of thousands of households – locally and completely emission-free," said Dr. Dieter Steinkamp, Chairman of the Board of RheinEnergie. "Furthermore, Niehl 3 makes a significant contribution to the energy transition. When the wind does not blow and the sun does not shine, the plant's high operational flexibility ensures we can contribute to the security of electricity supply."

"The Niehl 3 project is completely on schedule and Alstom is delighted to have successfully accomplished synchronisation with the grid," says Alf Henryk Wulf, Alstom Country President in Germany. "Alstom's KA26 combined cycle power plant is a highly environmentally friendly power solution that provides RheinEnergie with unrivalled flexibility. With short start-up times and fast load changing capabilities, the plant is perfectly equipped to balance out fluctuations in the electricity grid which arise from the volatile feed-in of renewable energy."

Gas power plants provide grid stability, even when operated at a low load, with fast start-up times and a wide load range. Alstom's KA26 gas power plants can achieve an electrical efficiency of more than 60 per cent.

[1] Base load power plants are used to meet some or all of a region's continuous energy demand and produce electricity at a constant rate.