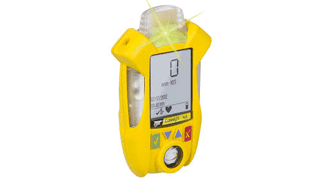 Honeywell announced ConneXt LoneWorker™, the industry's first cloud-based, mobile, wireless gas monitoring solution for tracking the safety and location of workers in the oil and gas, construction, utilities and other hazardous industries working in remote or sparsely populated areas.

The solution pairs Honeywell's ConneX1 wireless portable gas monitor and its IntelliDox™ docking and data management system with an enterprise IoT (Internet of Things) platform for location-based asset management. Using Honeywell ConneXt LoneWorker, safety managers can locate workers on demand, check near real-time readings of gas monitors, receive automatic alerts of gas alarms and man-down incidents, perform site check-in/check-out, send two-way text messages, and track vehicle maintenance, fuel usage and driving habits. ConneXt LoneWorker will help companies speed response to workers in distress and better manage remote and mobile assets.

"Companies have a responsibility to look after the safety and well-being of all their employees, and now, with ConneXt LoneWorker, Honeywell offers them greater assurance that no worker will get left behind," said Jose Diaz, global product marketing manager for Honeywell. "ConneXt LoneWorker offers nearly 100 percent on-demand data availability, even to the most far-flung points of an enterprise. This solution offers customers a potential life-saving tool for remote workers and a means for companies to better manage their mobile assets."

The four elements of the LoneWorker package include:

- ConneX1 –A single-gas portable monitor that functions on its own WiFi network. It includes a single-gas sensor for hydrogen sulfide, plus an onboard man-down inertial sensor, panic button and two-way texting.
- Trakopolis – A configurable, cloud-based asset management program that provides visibility, alerts, analytics and business intelligence enterprise-wide.
- IntelliDoX™ – A networkable docking and data management station that performs bump tests, calibration and detector configuration, sends email notices and automates recordkeeping.
- An intelligent, location-based communication device that enables connectivity and visibility of the ConneX1 detector and vehicle to the Trakoplis platform.

In a typical real-world example, the ConneX1 portable gas monitor provides information on gas concentration levels and location through a secure WiFi connection to the broadband modem, which operates in satellite/cellular dual mode and can automatically switch from cellular to satellite transmission when the cellular signal is out of range. The information is displayed on a PC,laptop or smart phone with Internet connection. The portable IntelliDoX docking module is used for bump testing the ConneXt units, logging data and managing records.