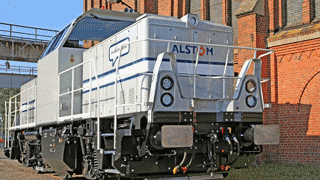 Alstom has been awarded a contract to supply four Prima H3 hybrid locomotives and four other refurbished locomotives to DAL Deutsche Anlagen-Leasing GmbH & Co. KG. (DAL). Alstom will also provide full service for all locomotives for a period of eight years. The locomotives are scheduled to be delivered from Alstom's site in Stendal, Germany, in the second half of 2016.

DAL is going to lease all eight locomotives to Chemion Logistik GmbH, a subsidiary of Currenta GmbH & Co. OHG, until 2024. The vehicles are to be used in the CHEMPARK facilities in Leverkusen, Dormagen and Krefeld-Uerdingen.

"Our environmentally friendly shunting locomotives are based on a modern technology; they can be flexibly used, especially due to their low-consumption and powerful hybrid drive. For large companies in particular, the reduction of pollutant emissions is of great importance," says Didier Pfleger, Alstom Vice President Germany & Austria.

"We have been convinced by the economic model, and here in particular by the good life cycle cost of the Prima H3 locomotive." says Andreas Geue, managing director of DAL. "Apart from the ecological and economic aspects, for us the technical parameters of the Prima H3 were essential. We expect the hybrid locomotive to contribute to the smooth shunting operations on our sites" adds Uwe Menzen, managing director Chemion.

In comparison with conventional shunting locomotives, the Prima H3 with its hybrid drive produces up to 50% less CO2, while other pollutant emissions (Nitrogen dioxide) are cut by up to 70%. Noise emissions have also been significantly reduced. The 350 kW diesel generator meets the requirements of exhaust gas standard stage IIIB and has been designed with future exhaust gas standards in mind. Depending on its use, the shunting locomotive will spend between 50% and 75% of its service time in battery mode. This makes it possible to achieve zero-emission rail transport in urban areas or production halls. The locomotive reaches maximum speeds of 100 km/h and can therefore easily be integrated in main line traffic.