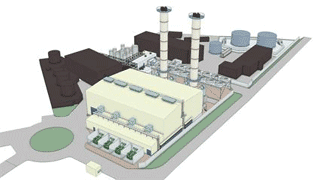 Wartsila will supply a 67 MW Smart Power Generation plant to Mauritius. The order includes four Wartsila 46 engines running on heavy fuel oil. The equipment will be delivered in late 2016, and the plant is scheduled to be operational by September 2017.

"Wartsila has been our trustworthy and professional partner for over 10 years. Their solutions are among the best in the market for producing reliable and highly efficient electricity with low emissions and low noise levels," says Martin Kok Jensen, Sales and Marketing Director at Burmeister & Wain Scandinavian Contractor A/S (BWSC). The company is the EPC contractor for this project for which Wartsila will deliver the engines, equipment and engineering.

Economic growth and a growing tourism industry have caused an increase in energy consumption in Mauritius. To meet the rising demand, the retired diesel generating sets at the St Louis Power Station will be replaced with Wartsila engines. The reliability of the grid is extremely important for an insular country like Mauritius. The modernised power station will provide semi-baseload power, including daily starts and stops, to the local residents and industries.

According to Bloomberg New Energy Finance, the country has set a target of having renewable energy comprise 35% of the total power generated by 2025. "By compensating for the gaps in the intermittent output of renewable sources, this fast-reacting plant will be able to support in renewable energy integration," says Joost Bos, Business Development Manager at Wartsila.

Upon completion of this project, Wartsila and BWSC's joint track record in Mauritius will be a significant 200 MW, which represents some 25 percent of the country's total capacity. In Africa, Wartsila's total installed base is 6500 MW in 46 countries.