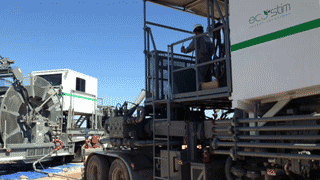 Eco-Stim Energy Solutions, Inc. (EcoStim) has been awarded a new contract with one of the largest and most active privately owned oil and gas operators in Argentina. This contract will cover well stimulation and coiled tubing services in Neuquén for the remainder of 2016, and is expected to provide a base level of work each month in the Neuquén area. J. Chris Boswell, the Company's chief executive officer, explained: "We are very excited to secure this contract for a premier client. With a second crew scheduled to begin operations in Q3, this contract is expected to keep one of our well stimulation crews working for a portion of each month throughout the remainder of the year and complements the contract we secured last month."

Miguel Di Vincenzo, the Company's Vice President of Sales & Technology, stated: "This is a relatively new customer for the Company and we executed the first job for them in April. Our success in obtaining continued work for this client is a testament to the quality of our people and equipment. After only a few well stimulation and coiled tubing jobs, this client has now awarded us this work for the remainder of 2016. I want to wish a big congratulations to our entire team."

Jorge Robles, the Company's Director of Sales for Argentina added, "Our Company is establishing a strong reputation in this market through excellent field performance. We believe our employees, our technology and our equipment is collectively, amongst the best in the country. As we add our second and third fleets, we expect that we will continue to increase our customer base and benefit as the market recovers from the lower activity levels following last year's elections and the corresponding changes in policy. This contract will help to further establish the operational track record which we believe is necessary to eventually participate in the growing unconventional market and we look forward to positioning our Company to do exactly that later this year or early next year."