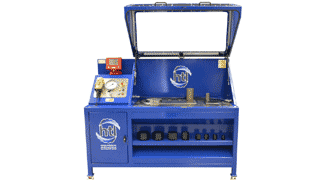 Incorrect measurements and tool inaccuracies in all industrial sectors can lead to hazardous consequences not least of all risk to personnel safety. So ensure operator safety and minimise downtime with HTL Worldwide's range of Torque Calibration rigs.

A common misunderstanding is that only used tooling must be calibrated, when in actual fact calibration should also be carried out on new tooling to ensure accuracy is maintained from the beginning of use.

HTL, a Global OEM of controlled bolting equipment, recognises the critical importance of tool calibration, and have therefore designed highly safe, premium quality torque calibration rigs to allow clients to entirely control their own in-house calibration.

Mike Johnson, Group Director of Engineering, HTL Group comments:

"The reality of accurate calibration is that it's a necessity for industry but it mustn't come at the expense of project downtime. The new range of torque calibration rigs bring to market a fully integrated piece of equipment incorporating unique safety features. The ability to calibrate tools to a planned schedule effectively contributes to reducing downtime, allowing client projects to run as planned."

Technically suited to any industry or business who frequently calibrate torque tools, the HTL range of torque calibration rigs enhance the existing market offering by introducing a standardised range of quality torque calibration rigs, with the ability to customise to meet every individual requirement.

As part of the Premier range, the enclosure incorporates Norbar torque measurement equipment, an interlocked safety canopy, a heavy duty and robust modular frame, lockable pump cupboard and safety interlocks to ensure operator well-being during use. The Premier Rig also includes an integrated control panel, electric pump, a precision gauge and an emergency stop mechanism to further promote safe operation.